Academy of Health Professions Educators is a registered national non-governmental organization of like-minded health professionals who have keen interest in the development and advancement of health professions education in India. The core purpose of this organization is to improve the standards and quality of health professions education in India at all levels – undergraduate, postgraduate and continuing professional development in alignment with the goals of SEARAME and WFME.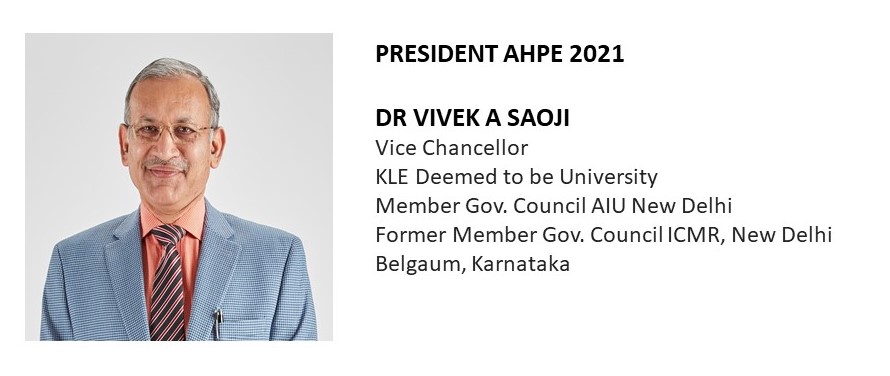 I am happy to take over as President of Academy of Health Professions Educators (AHPE) India, an organization of enthusiastic, energetic and erudite educators across all the disciplines of Health Science in India. At the outset I thank the AHPE for giving me this honour and opportunity to serve the academy, which I shall do to the best of my abilities.
Currently, we are going through both unprecedented as well as exciting times. Read further…
NCHPE 2020: 12th National Conference of Health Professions Education
26-28 October 2021 (Hybrid mode)
Hosts: Sri Guru Ram Das Institute of Medical Sciences and Research , Sri Amritsar, Punjab, India
Conference Theme: Looking Back to Leap Forward: Curriculum Innovation
Visit conference website
The AHPE has conducted a series of webinars on pertinent topics. The recordings can be accessed here.