Academy of Health Professions Educators is a registered national non-governmental organization of like-minded health professionals who have keen interest in the development and advancement of health professions education in India. The core purpose of this organization is to improve the standards and quality of health professions education in India at all levels – undergraduate, postgraduate and continuing professional development in alignment with the goals of SEARAME and WFME.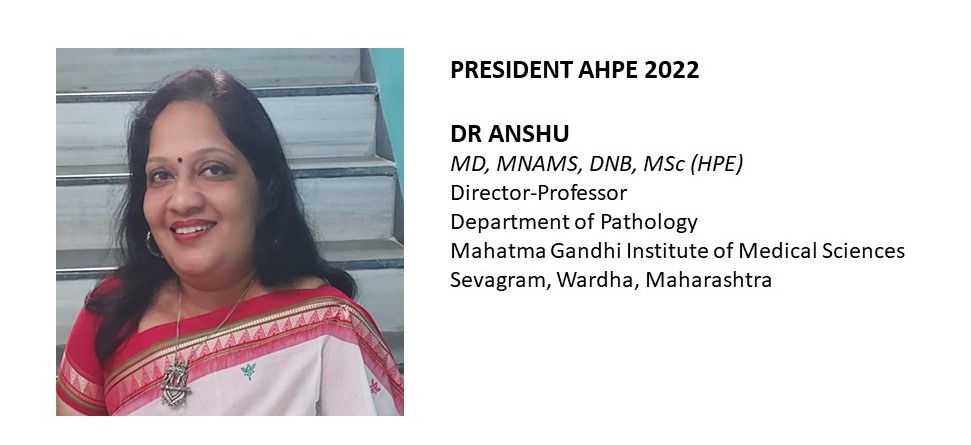 It is a privilege and an honour to be given the responsibility of leading the Academy of Health Professions Educators as its President for 2022. I have been lucky to be associated with this organization since it was a fledgling idea, and have seen it grow from a concept to a functional body. In the process, I have had the opportunity to be mentored by several giants in medical education.
We are at crossroads. Since competency-based medical education has been introduced in a nation-wide process, teachers and institutions have had to adapt quickly and on many fronts. The process includes concepts which the faculty themselves have not experienced as students. So, understandably the journey is expected to be a bumpy ride.. Read further…
NCHPE 2022: 13th National Conference of Health Professions Education
Hosts: Himalayan Institute of Medical Sciences, Jolly Grant, Dehradun
Theme: Preserving the human connect in an era of technological advancements in medical education
Organizing Secretary: Dr Juhi Kalra
Dates:
Preconference workshops: 31 Oct- 1 Nov 2022
Main conference: 2-3 Nov 2022
Visit: https://hims.srhu.edu.in/nchpe-2022/
The AHPE has conducted a series of webinars on pertinent topics. The recordings can be accessed here.
Catch up with short blog posts on pertinent topics in health professions education written by experts here.